Walks – Glencoe Lochan
Walks
| | |
| --- | --- |
| Start/Finish | Map Reference – NN 105 595 Landranger 41 |
| Parking | Forest Car Park signposted from the old Glencoe road |
| Distance | 3 miles/5 km |
| Time | 1 ½ hours |
This walk is a great for all ages and abilities and is in an idyllic setting right in the heart of Glencoe.
The lochan is set in what was the grounds of the home of the Earl of Strathcona who was, for a while, the governor general of Canada.  He brought back with him his Canadian wife who became a little homesick so he landscaped the whole area around the house to look like the Canadian Rockies.  Some visitors have commented that the area around the lochan looks like a miniature Lake Louise in British Columbia.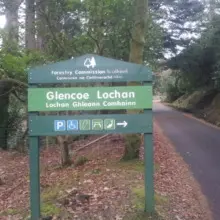 The car park is reached by driving through the village of Glencoe, over the humped back bridge and almost immediately left through the walled entrance gate at the bottom of the former driveway.  After a few hundred metres a sign shows the way into the car park off to the right.
There is a map sign in the car park that shows three different walks around the Lochan.  This sign gives information on each of the walks available.
The red trail is the principal trail around the lochan, and is suitable for wheelchairs.  There are numerous seats and an occasional picnic table where you can relax and take in the views.  Pontoons jutting out into the water are also available and are ideal for that perfect photograph or for feeding the ducks.  On a still day the views around the lochan are quite delightful, the reflections on the surface being almost better that the real view!
For the yellow woodland trail, stay on the lower path out of the carpark and past the small lochan on your left that often has water lilies flowering in it at the appropriate season.  Take the first path on the right and then almost immediately left into the woods, following the yellow markers.  This trail is undulating and emerges at the far end of the lochan but gives an excellent extension to the walk.
The blue walk heads very steeply up the hill out of the carpark and rejoins the red lochan trail at the far end.  Although steep, it is a good path and gives a splendid view from the top looking over Loch Leven and its surrounding hills on the other side of the loch, Beinn a' Bheithir to the left, and, looking behind is the Pap of Glencoe.
For added interest, this walk has a geocach to find
Facilities & Useful Information
Suitable for Families
Yes
Suitable for a rainy day
Yes
Is this route circular?
Yes
Where we are and what's nearby